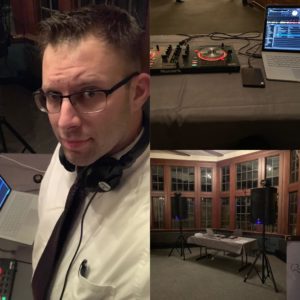 I was making mixtapes with drops and sound effects in the 1990s, graduated the Broadcasting Institute of Maryland in 2001.
Filled in on the radio as a morning drive DJ, middays, and overnights, and spent several years working with a mobile DJ company. Weddings, school dances, reunions, corporate events, etc.
I gave it up for about 10 years because life happens, and would still come out of retirement for friends once a year or so. In 2017 I got serious again, and started stacking music collections, upgraded to all digital, and just worked on making myself known again. I've played for 5000 people, I've played for 50, and the only difference is how loud the room can get.
If you need entertainment for a party, dance music for a wedding, or just something to set the mood for an event, I can do it.
Rates are negotiable, and can scale with the size of the crowd.
Email: ZacShipley@gmail.com or call 414-622-0374 to talk to me about your next event.
Recent sets on mix cloud: