Fantastic Beasts And Where to Find Them
I'm a real latecomer to the Harry Potter thing. I was aware of the series for most of the 2000s of course, but didn't see any of the movies (still haven't read the books) until 2010 right before the last one came out. Dawn and I marathoned the series on Netflix (Discs by mail!)and then saw the final installment of Deathly Hallows when it reached theaters. I have afoundation of the series without being a super fan. I didn't know what to expect from Fantastic Beasts. It is a very interesting film with more than a few strange choices. Firstly, the lead role played by Eddie Redmayne is really strange. He's so socially awkwards, mumbles most lines and rarely looks other characters in the eye while speaking directly to them. Dan Fogler is unrecognizable but is also putting on a great character performance. I'll admit to not being very familiar with most of the other actors but they were all similar shades of awkward. Kinda neat for a movie that is supposed to be a huge studio action film with kid appeal.
Keanu
Held on the DVR for about 3 or 4 months. Finally watched it and wasn't disappointed. A fitting tribute to George Michael.
Raiders of the Lost Ark
Ok so when Indy is running from the natives in the opening scene, he's left behind a small crew dead in the expedition. Then he gets in a single engine plane with one seat. What the hell was going to happen to all those other guys? Was he counting on them getting killed? Otherwise, this movie holds up.
Lego Batman
I've seen The Lego Movie a hundred times. Kids love it. I was hot to see this one before it came out then the reviews were great too, so we finally made it out a couple weeks ago. It almost plays like an official parody of Batman movies. The weird Tom Hardy Bane voice coming out of the comic looking Bane was pretty great.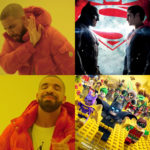 Batman v Superman
OK so Superman arrives at congress to face questions and Bruce Wayne is watching on TV and asks whats the deal with the former employee who is also appearing. He sees the returned checks, he sees the bomb go off and while I can appreciate it might be hard to directly connect this entire thing to Lex Luthor is should be clear to HIM that there is a conspiracy to frame Superman. One so great it will put him in the US Capitol building with a bomb and kill hundreds. Why the hell does he continue to pursue his insane plan to stab Superman to death? Shouldn't the world's greatest detective go deeper at this point?
Great Wall
My dad had a brush with death 2 months ago. Trapped in a hospital bed watching network TV as he recovered, we saw a lot of ads for this Matt Damon bomb. We decided this movie had to be either so great or so stupid. As he got better, we went out for a weeknight screening at the nearest IMAX screen. I know it was an off peak time to see a movie in its 2nd or 3rd week of release but we were the ONLY people in an IMAX theater. The weird mix of fake history, science fiction, fantasy, and Matt Damon's accent conspired to make a movie that defied rationality. Monsters from space that attack on an Earth clock! One Chinese warrior speaks perfect English! Bungee jumping with spears! Willem Dafoe! Emperor of China is played by some kid from a boy band! Fuckin' magnets, how do they work? Never mind the white washing, the movie was shot and paid for by the Chinese and there is so much nationalism for a culture, society, and events that do exist it was difficult to comprehend. I'm not sure who this movie was for! It is barely on the edge of Mystery Science Theater 3000 level bad.