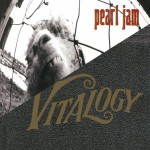 Pearl Jam – VS. / Vitalogy / Live In Boston 1994
For a very long time, Pearl Jam was my favorite band. I don't listen to them nearly as much now, but I can't really think of any band I like better. I listened a little to each of the original albums in the car, but went straight for the live disc when I got home.
"Immortality" is in an early and unfinished state. It sounds like it doesn't have an ending.
Still, when I got to "Spin The Black Circle" in the car, I found myself at full volume, howling the words. Its nice to have something so dear to my younger self brought back to life. These CDs have never been far, but a remaster gives me another reason to listen to them. Its not a bold remix like the one included with TEN, but I guess it sounds better or something. With the speakers in clip, its hard to tell.
Listen? Immortality