Watch me steal Watch The Throne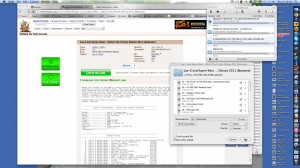 I have given Jay enough of my money. I still don't regret buy any of his albums up through the Black Album. I downloaded Kingdom Come when it leaked and can't honestly repeat a lyric from it. It was unremarkable. I bought Blueprint 3 when it went on sale on Amazon for $3 and felt ripped off.
I loved Kanye. I saw him live in 2004. I thought he was the future. I still listen to College Dropout, Late Registration, and Graduation a lot. But then 808s sounds shitty. And he kind of turned into a very public asshole and since attitude informs hiphop more than any other music, it was hard not to hear it come through in other stuff he did.
Fuck 'em both.
If this shit is good, I'll buy your record, but odds are against you since I haven't heard anything from either your worth spit in four years (Kanye) or eight years (Jay)
Update:
I've listened to the first three tracks and this crap is crap. I'll try to listen to the rest tomorrow.
Jay-Z and Kanye already released a collabo that was great and it was called "Blueprint"