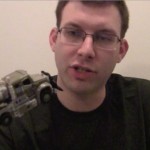 Dawn: When did you buy this?
Zac: This morning.
Dawn: When did you make this video?
Zac: This morning.
Dawn: "I will never reveal the Wu Tang Secret." I like your face. I'm clicking "I like this."
Thanks, honey. I visited Walmart and Target in Frederick with no DOTM toys on hand, and then treked to Mount Airy this morning to find the mother lode. No Shockwave, but I caved on Megatron, Starscream, and Powerglide.
Almost took Roadbuster, but then remembered how he's missing a ton of paint apps. Also, I haven't seen the movie yet, and I purchased Sideways before Revenge Of The Fallen came out and was disappointed when I found out he got cut in half in the first 4 minutes of the movie. Roadbuster has to prove it to me.